Dr. Don Gilman, professional speaker, trainer, and consultant, is a principal with Gilman Consulting Group, Inc., a global consulting firm, and author of the upcoming book, "Critical Thinking is a Contact Sport: How SpaceX and Tesla create high-performing teams". With a Doctorate degree in Organization Change, as well as advanced degrees in Engineering Physics, Nuclear Engineering, and Engineering Management, Don is uniquely positioned to understand the challenges organizations face today in creating and leveraging high-performing teams in order to capture new opportunities and/or stay competitive in the global marketplace. Don's firm made its name doing strategy work, and large-scale change-implementation projects.

A key element of Don's work has been to use a wide variety of diagnostic tools to determine the cause of problem facing a team or an organization. Like a medical doctor, Don doesn't just treat the symptoms, as often the symptom is masking a larger problem that is causing the disfunction and inefficiency in the first place. Don has worked with clients of every size and sector, from automotive companies in Germany to aerospace companies in Japan.
Out of these projects came Don's presentations, critical lessons learned from the key elements needed to successfully implement change and manage effectively in a turbulent environment. Strategy work and trends analysis looks at the interaction among major trends, including economics, corporate restructuring, demographics, globalization, technology, and psychographics, to describe their combined impact on organizations, and the future of work. This unique approach, often in defiance of conventional wisdom, has proven remarkably accurate. Don continues to educate and entertain audiences around the world. Just look at some of the most recent comments from participants. And then give us a call to check availability for your team or organization.
Don has been involved in his industry's professional associations in numerous capacities, including serving on the executive board of the Institute of Management Consultants Southern California division. Don's combination of unusual insights, fresh analysis, useful ideas, and appropriate humor resonates with audiences, making him one of the highest rated speakers internationally. His client list includes mom-and-pop operations to global powerhouses.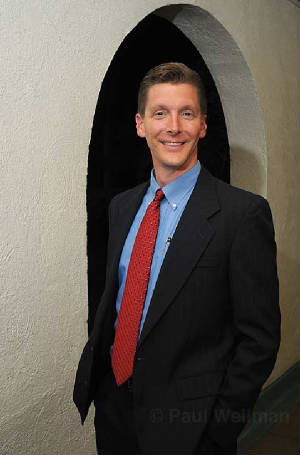 Regularly quoted in a wide variety of media, Don has appeared on radio and television from coast to coast and around the world, including CBS, NBC, ABC, MSNBC, CNN, and the BBC. Don has articles published in professional journals around the world in multiple languages, and is the recipient of numerous awards and designations within his industry.

A member of the National Speakers Association (NSA), Don is one of the most requested keynote speakers, breakout facilitators, and panel moderators today. Don partners with some of the best speaker's bureaus in the country. If you are working directly with a bureau, please contact them for more information on Don's availability and fee schedule or call our office directly for available dates, or fee schedules.
If you are a speakers bureau or meeting planner and would like to discuss your needs for an upcoming conference, please call our office at 805.275.1078.